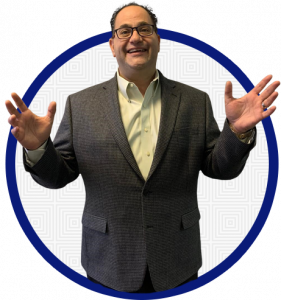 Jim Iyoob is the Chief Customer Officer for Etech Global Services.
Jim is a 33-year veteran of the call center/BPO industry. His responsibilities for Etech include strategy, marketing, business development, IT, program implementation, operational excellence, and product development across all Etech's existing lines of business – Etech, Etech Insights, Etech Technology Solutions (ETS), and Etech Social Media Solutions.
He is passionate, driven, and an energetic business leader with a strong desire to remain ahead of the curve in outsourcing solutions and service delivery. Jim has an impeccable track record of innovation and advanced business intelligence. He has been instrumental in setting up services for customers needing quick solutions for their daily customer experience needs. Jim has an exceptional understanding of customers' products, requirements, and processes, and complete analysis to provide the right kind of solution. This has helped him develop, implement, and retain some of the most successful, award-winning programs that deliver consistent ROI. The gained experience over the previous years has enabled him to be a subject matter expert for call center solutions, with specialties including Strategy, CX, Chat, Operations, Training and Developing Leaders, Relationship Management, E-Commerce Strategy and Reporting, Quality Monitoring, AI, IT & Outsourcing and Social Media Strategies.
Jim is an eminent speaker and has conducted various workshops sharing his experiences with effective quality monitoring techniques and insights. The real-time examples shared during these workshops have benefited many industry leaders. Jim also serves as a panelist for several forums empowering people to understand and overcome contact center challenges. Due to his level of expertise, Jim has been featured in numerous publications, including CIO Review, Contact Center Pipeline, Connections Magazine, and was also listed as one of the 'Top 20 Influential People to Follow' on Twitter by "Iwantitnow."
Jim has co-authored three books with his lifelong friend, mentor, and coach, Matt Rocco
In addition to his responsibilities at Etech, Jim enjoys spending his spare time volunteering for various charitable organizations including the Nacogdoches County Chamber of Commerce, the United Way of Nacogdoches County, the Boys and Girls Club of East Texas, and the Glory Gang Ministry, a Christian service organization that is dedicated to assisting and teaching disadvantaged youth.
Jim is married to his darling wife, Kelci. They have raised three children – Michael, Brianna, and Kylee.